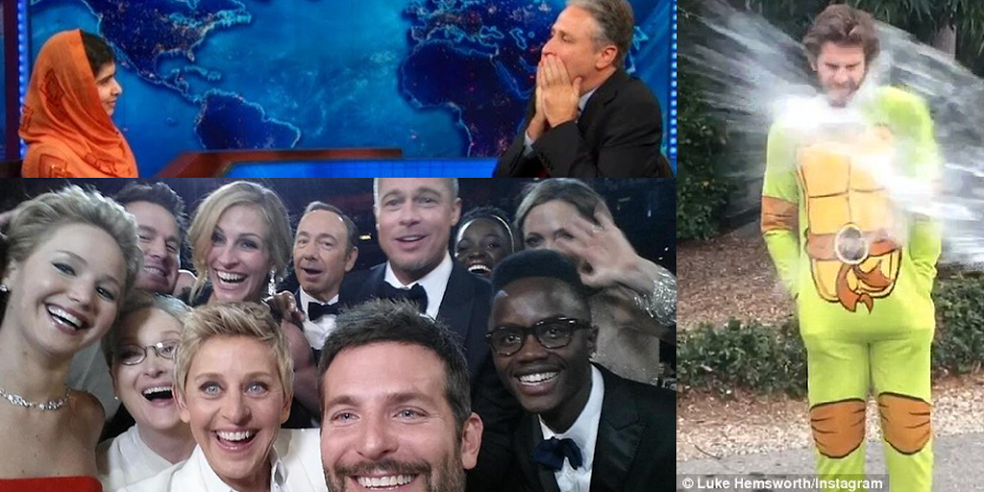 Sam Horn's 2014  POP! Hall of Fame
It's been great fun discovering what got your eyebrows up this year.  The following are our favorite intriguing individuals, organizations, book titles and taglines that POP'd out of their crowd – for all the right reasons.  Enjoy.
1.  The best interview of 2014. The Daily Show's Jon Stewart has interviewed thousands of people. There's only one who's left him speechless and who he offered to adopt on the spot.  This 17 year old (!) is also the only person to be pulled out of chemistry class to be told, "You've won the Noble Peace Prize."  Kudos Malala Yousafzai.
2.  Groufie: What do you call a selfie taken with a group?  A "groufie." The one Ellen Degeneres tweeted from the Oscars of her, Brad Pit, Julia Roberts, Meryl Streep, et al was the viral tweet of 2014, being re-tweeted 3 ½ million times and favorited an additional 2 million times!
3. ALS Ice Bucket Challenge:  This philanthropic social media phenomenon convinced people worldwide, including Liam Hemsworth in a Teenage Mutant Ninja Turtle suit, to pour cold water on themselves.  More importantly, it raised $100 million for ALS Association.
4.  Al Desko:  Ever been so busy at work, instead of going to an outside café, you stayed in and had lunch at your desk? You didn't dine "al fresco," you dined "al desko," as Bon Appétit magazine noted in a March 24th article.
5. "You're not a clone, so why shop at one?"  Kudos to Gina Schaefer, Owner of A Few Cool Hardware Stores for separating herself from big box retailers like Lowes and Home Depot with this "Got Your Attention?" tagline.
6. The Bucs Stomp Here: NFL's Tampa Bay Bucaneers ran up a 27-7 score against the hapless Washington Redskins. How did The Washington Post respond? With the headline The Bucs Stomp Here!  Not to be outdone, what was their headline when the Smithsonian's Natural History Museum announced the Fossil Hall (think dinosaurs) would be closed for renovation for 5 years?  Sad to the Bone.
7. Ciao Mein and Taj Mahalo. Ever wondered what a blend of Italian-Chinese chow or a mix of Thai-Hawaiian food would taste like? Wonder no more.  These clever restaurants offer fusion food and fused, Half & Half names.
8.  Turketarian and Friendsgiving: "Friends are the new family," said a 20-something who hosted a growing-in-popularity potluck Thanksgiving gathering.  What do these health-conscious Millennials, who can't afford to head home for the holidays, eat?  Why a half-turkey-half vegetarian meal, of course.
9.  Listicle:  What do you call an article that's basically a top-ten list?  A Listicle. Why are they so popular?  As Linton Weeks' NPR column explains, they help us bring order to chaos, control the uncontrollable and organize the overwhelming.  http://www.npr.org/templates/story/story.php?storyId=101056819
10.  Dalai-Mama Yoga:  How can women exercise, get fit, be tranquil and have peace of mind … all at the same time?  By visiting http://www.dalai-mama.com/ – whose slogan is "Ohm is where the heart is."