Introducing Sam's Newest Book: Got Your Attention
"I'm afraid of nothing except being bored."
– Actress Greta Garbo
Garbo's not the only one afraid of being bored.
People today are impatient.
Their internal clock starts ticking the moment you start talking.
They're wondering, "Will you be a bore, snore or chore?"
If they don't see or hear something that earns their favorable attention;
It's NEXT and they're on to something else.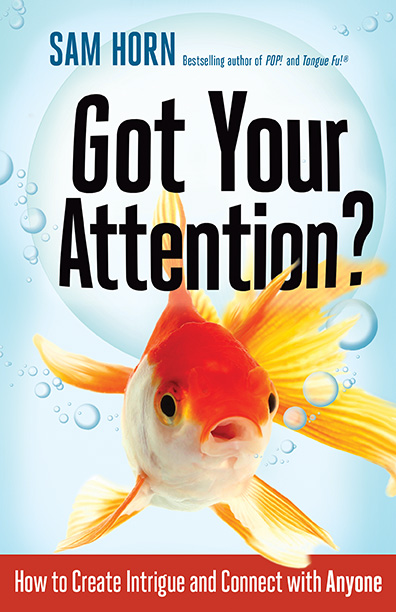 In this book, you'll discover innovative ways to craft concise, compelling communications that INTRIGUE people and capture and keep their interest. These techniques have helped Sam's clients close deals, earn/raise millions, and most importantly, create mutually-rewarding connections with people on and off the job.
Here are just a few of the enthusiastic endorsements we've received for "Got Your Attention?"
"If you can't get people's attention, you'll never get their business. Sam Horn's new book shows how to quickly win respect so people are motivated to listen."
– Terry Jones, Founder of Travelocity and WayBlazer, and Chair of Kayak
"Every entrepreneur, executive and educator will benefit from reading this brilliant book." – Amy Wilkinson, former White House Fellow and author of The Creator's Code
"Innovative ideas for initiating genuine conversations and meaningful connections that turn strangers into friends." – Keith Ferrazzi, #1 bestseller Never Eat Alone
"These techniques for engaging employees and customers by focusing on their needs and priorities first … are a must for every leader." – Marshall Goldsmith, Thinkers 50 Top Ten Global Business Thinker
Select any of Sam's books below to purchase them directly through Amazon