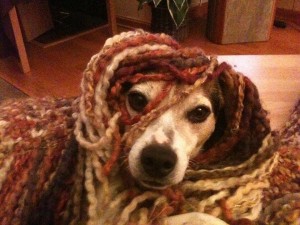 The time had come. Murph was in pain and couldn't keep any food down….
We were fortunate to have found a hospice vet who came to our home. After a morning of lyin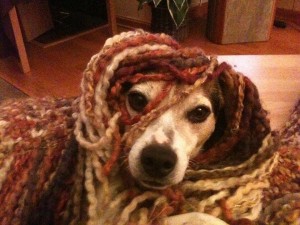 g in the sun, Murph's favorite thing to do other than getting out in the sun, the vet gave her a gentle shot.
While stroking her and whispering, "Thank you" over and over, I felt Murphy's spirt leave her body. There was no trauma. One moment she was here, the next moment she was not.
I went for a walk to Gratitude Bench to honor Murph and to send up appreciation for our fourteen years of friendship.
I kept reflecting on her peaceful passing, "What was the difference between Murphy being alive and then not?"
It came to me in a word. Senses.
In her last walk that morning, Murph drunk in the world through her senses. She could no longer hear, but she sniffed in everything. She was so present, so in the moment, so filled with the simple pleasure of being outside, moving, being alive.
Murph taught me many, many things. Perhaps the greatest of all of was to get outside every day and drink in the world through my senses.
Now, I honor Murph every morning by doing a mindful walk.  Part of SerenDestiny, of living in day-right compartments, is heading outside for ten minutes of sensory immersion.
I start with my eyes and SEE the world as if for the first time.
I see the sun filtering through the branches of the nature preserve near my house. I see the bright red colors of a cardinal flitting across my vision, some hardy flowers (pansies, I think?) that have somehow survived the first snow of the season.
I drink in the smell of snow, yes, snow has a smell, the smell of the frigid lake.
I breathe in through my nose, four counts, and out through my mouth, four counts. I feel my shoulders release tension and drop into a state of relaxation as a result of these deep breaths.
I hear the sounds of the Canadian geese honking as they take off from the lake. I hear a woodpecker drilling a tree, the sounds of a breeze ruffling the branches of the pine trees.
I feel the juxtaposition of the warmth of the sun on my face, the bite of the chilly air and how cozy I feel in my down jacket, how toasty my fingers feel in my winter gloves.
Those ten minutes of morning mindfulness center me in my world. They're a contrast to the busyness of the day about to unfold. A reminder not to get caught up in hurry-up stress.
How about you? What do you do to stay mindful?
What is your daily practice for staying centered, aware and appreciative of being alive, of drinking in nature's marvels through your senses, of being grateful for being alive?