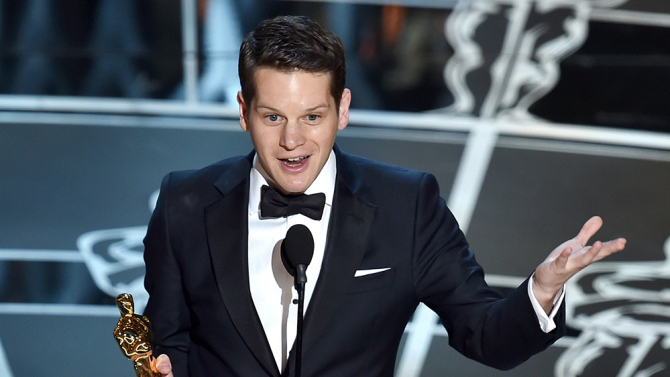 Who says you can't say anything in two minutes? You can CHANGE LIVES in two minutes.
That's what screenwriter Graham Moore did on Sunday night at the The Academy Awards while giving his acceptance speech for winning an Oscar for Best Adapted Screenplay for "The Imitation Game."
As Dina Gachman of Forbes said, "Moore did something remarkable: He told the audience he tried to commit suicide as a teen because he felt different and awkward, and called upon any teenager out there who felt alone to remember there IS a place in the world for them. 'Stay weird, stay different,' Moore said. And with that, he won the night."
Moore didn't stop there. He went on to say that if people who felt they didn't "fit in" continued to believe they had value and something to offer, someday, THEY might be up on the Oscar stage receiving an award and have the opportunity to pass on the same message and pay it forward.
Washington Post called Moore's heartfelt acceptance speech, "the most moving moment of the whole show."
I agree. The 2015 Academy Awards was watched by 36.6 million people. Surely Moore's message resonated with thousands of people around the world, young and old, who feel they don't belong.
It boggles my mind that several nominees said they didn't think they were going to win, so they didn't prepare anything.
Really?! They had a 1 in 5 chance of getting up in front of 36.6 million people and they didn't honor that opportunity by spending a few moments thinking what they could say that would matter, that could make a difference?
How about you? Understand, "There's no such thing as a throw-away speech."
If you're receiving an award, presenting an award, speaking on a panel, giving an introduction, delivering a short keynote … THEY ALL COUNT.
Honor the "privilege of the platform," as former National Speakers Association President Naomi Rhode says.
As speakers, even if we only have a few minutes, we have an opportunity and an obligation to honor our audience and the moment by saying something relevant and resonant, something that adds value and elevates everyone in the room (along with those watching from afar or in the future.)
You might want to watch this clip and read the VOX post by Brandon Ambrosino to see how Moore intrigues and inspires …. all in under two minutes.