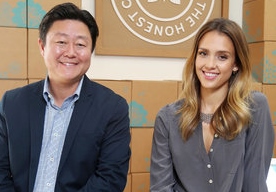 So far, one of the most intriguing aspects of SXSW is the BACK-STORY behind how these entrepreneurial visionaries created their break-out business.
For example, actress Jessica Alba had an allergic reaction to an ingredient in the baby wipes she was using with her daughter, Honor. She looked for healthier options that didn't have toxic chemicals in it, and couldn't find any.
She thought, "If no one else is going to provide products we can trust that won't be harmful to our babies, I will."
But it took her three hard years of getting no's before she finally got a yes to her vision. In fact, many people in Hollywood scoffed at her efforts and kept suggesting she leverage her celebrity status by creating a perfume. But as she told the audience. "Making another perfume wouldn't help the world."
After initially getting turned down by LegalZoom CEO Brian Lee, she trimmed her 100 page pitch into 10 lean pages and refined her "too big of an idea" proposal into one that more narrowly focused on healthy products for families.
That's when SerenDestiny® (yes, that's a trade-marked term and yes, I have a website on it) entered the scene.
The first time, Jessica had reached out to Brian, he didn't have children and didn't really resonate with her idea or find it personally relevant.
This time, he was a new dad, He said, "My wife had changed her behavior and was suddenly reading labels and making organic baby food because she couldn't find any that didn't have sugar or additives in it." He was in.
Together, they have built what's on its way to being an iconic, customer-centered, lifestyle brand that generated $150 million in revenue last year.
Alba and Lee continued to "pull back the curtain" and talk about the early days of their venture. They changed the name of their company from "Love and Honor" (which wasn't getting any traction) to "The Honest Company" which they felt was simple, transparent and scalable.
They made a hard choice to pay $400,000+ for the honest.com domain … (as opposed to the longer TheHonestCompany dot com they could have gotten for $10 on GoDaddy) and have found the short domain is worth every penny they spent.
They were thrilled when Jessica was invited to appear on Good Morning America to take their message to millions. But their website took much longer to develop than anticipated. It went live, for the first time, twenty minutes before her national interview. Miraculously, it held up to the instant demand.
Lindsey Blakely, Features Editor at INC, conducted an excellent interview. She asked Alba about their impressive engagement with customers on social media.
Alba said, "We have more than 1 million followers (none of them bought) and an amazing 20% active participation. Our customers tell us what is working, what is not, and what they want next. For example, they were telling us they didn't initially like our baby wipes. We scoured the globe to find a manufacturer who could make the wipes thicker and larger. We finally found one and came out with a new, better product in 5 months. That's unheard of in our industry. Combine that with our diapers that are 40% more absorbent than other brands, and parents and mommy bloggers tell us, 'Our babies don't get diaper rash anymore.'
That's what makes what we're doing worthwhile. Feedback from our customers that we're on our way to fulfilling our mission to creating a non-toxic world."
[Photo via Flickr User gageskidmore // Creative Commons]