"When you're one-of-a-kind, you have no competition." – Sam Horn, author of POP! and Got Your Attention?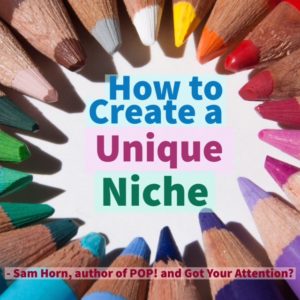 Do you wish you could:
* figure out what makes you original?
* clarify the secret sauce that makes you different?
* create a competitive edge that motivates decision-makers to pick you?
The good news is, you CAN do all the above. The secret is to create a unique and needed niche that gets you noticed by ideal clients.
Are you thinking, "I know I need to do that; I just don't know how to do that?"
Join the club. In my 20 years of being a business/branding consultant; I've seen many entrepreneurs fail because they couldn't figure out how they were special.
They weren't able to differentiate themselves from others in their industry. They never created a winning competitive edge that helped them stand out and succeed.
So, I developed a step-by-step system to help my clients break out instead of blend in.
One of the steps in my system helps you identify what you're bringing to the table that is special, that people value and are willing to pay for.
In other words, what are you good at? What do you do well that people want and need that they'll hire you to do for them or teach to them?
Here's a condensed version of my 4A Process for clarifying the strategic "secret sauce" that makes you special.
Sam Horn's 4 A Approach to Creating a Unique and Needed Niche
Ask yourself the following questions to start clarifying what you know that other people want to know or want to have done for them.
ACHIEVEMENT: What have you achieved – that other people would like to achieve?
* Did you put yourself through college, build a house from scratch, get your pilot's license, teach yourself to design websites that make money, retire at 40, launch a successful Kickstarter campaign?
* What did you accomplish that took discipline and perseverance – and other people could benefit from your lessons-learned on how to "stay the course"?
* What skill have you acquired you could reverse-engineer into a step-by-step methodology that will expedite people's ability to do this fr themselves?
ADVERSITY: What challenges have you overcome – that other people would like to overcome?
· Did you deal with breast cancer, get down-sized, rebound from a difficult divorce, lose all your money in a financial scandal?
· What did you survive – that you could show other people how to survive?
· What did you learn "the hard way" and you want to prevent/minimize that pain for others and give them support so they don't have to go it alone?
AVOCATION: What is a hobby you're good at – that other people would like to be good at?
· Do you love to play piano, garden and grow your own vegetables, ride horses, play with smart phone photography – and you could turn that into a metaphor that gives you a fresh approach to a familiar topic?
· What do you do for fun – adventure travel, museum docent, astronomy clubs –that you could share with others who want more fun in their life?
· What do you do that lights you up – and you could integrate it into your job so you're integrating your passion/profession instead of seeing them as separate?
ATTITUDE: What is a philosophy you have – that others would find relevant, inspiring, beneficial?
· What is an epiphany you've had – that could save others trial-and-terror learning?
· What is a favorite motto that keeps you motivated – that others might find helpful?
· What is a contrarian, provocative insight you have– that could open people's eyes to an outdated/dangerous belief and lead to a transformational aha?
These questions have helped many of my clients leverage their lessons-learned into a successful business and earn a good living doing work they love that matters.
Want a few quick examples of how my clients have used these techniques to leverage their A's into successful businesses?
Achievement:
Client David Glover is a Naval Academy grad, cancer survivor and world-class Ironman triathlete. However, he's so much more than that. Check out his website to discover how he's been able to leverage his A's into a soul-satisfying business where he's getting paid to speak, write, coach and direct running races around the country.
Adversity: Christina Grimm grew up in sunny California, playing competitive travel softball from age ten. You can imagine how thrilled she was to receive an athletic/academic scholarship to a Division I school. Unfortunately, their hypercritical coach only focused on what Christina did wrong, never on what she did right. The coach ruined her self-esteem and enjoyment of the game. She ended up leaving after one year, vowing never to play softball again.
Christina is pro-active though and decided that, instead of letting that toxic experience defeat her; she would turn it into a career and mission helping others who were being mistreated. She went back to college and got her PsyD. Her thesis? "The Effect of Coaching on the Self-Esteem of Teen-Aged Girls." She is now a certified Tongue Fu! – Never Be Bullied Again instructor and offers programs on how to confidently speak up and take responsibility for being treated with the respect you want, need and deserve.
Avocation: A financial adviser wanted to know how she could possibly differentiate herself in that crowded industry. She had impressive credentials as she was frequently featured in the media as a result of her high-profile role for a nationally-known company, but she still needed a competitive edge for her work to stand out in the glut of "instant experts."
I asked, "What do you do when you're not working?"
Jan told me, "I play golf."
I said with a smile, "We're in business. Why not use smart golf as a metaphor for being a smart investor? You could call your book 'Go for the Green.' Talk yourself through a round of golf using each step of the process as an analogy. Your tips on how to make/save par can be used as a parallel for how to make/save money."
This was strategic positioning as Jan's target clients were executives and entrepreneurs, many of whom play golf. This was something they valued and wanted to get better at, which increased the likelihood of her being asked to speak at corporate events and association conventions, which often host golf tournaments before their meetings.
Attitude: Julie Jansen, a career coach, wanted a breakout book in her genre but told me, "Sam, all the great titles – like 'Take This Job and Love It' – are taken."
I asked her a series of questions including, "What attitude do your clients have? What is something that frustrates them? What is something you hear, over and over again, when they come into your office?"
She thought about it for a moment, laughed and said, "You know what they all say? 'I Don't Know What I Want; But I Know It's Not This.'"
I told Julie, "THAT's the title of your book! People will look at it and think, 'That's EXACTLY how I feel! People buy books that resonate with them, and that title will resonate with potential readers because it articulates a problem they have they want solved." Julie's book has become an evergreen classic because it expresses an attitude and frustration many people in her target market feel.
So, how about you? Are you in a crowded industry? Are you having a hard time standing out? Are you not getting the clients you deserve?
Use this 4A Process to identify what you have to offer that can be turned into a legacy message and unique niche that helps you pop out of your pack. Your "A's" are a goldmine waiting to be leveraged into a one-of-a-kind competitive edge that helps you stand out from your crowd vs. get lost in your crowd.
– –
Want more ways to create a unique niche that gives you a one-of-a-kind competitive edge? You'll find them in POP! (which Ken Blanchard says is "an inspiring guide to getting heard, getting remembered, getting results.") and Got Your Attention? ( presented to NASA, National Geographic, Accenture, ASAE and Ernst Young). Contact Cheri@IntrigueAgency.com to inquire about Sam's consulting services and to arrange for her to share her inspiring, results-producing insights at your next conference.